Staying fit and healthy is not as easy as it was before the COVID-19 pandemic. Most gyms are closed and working out with people you don't know isn't the best way to stay safe. So it's natural to ask yourself: how can I stay fit during COVID?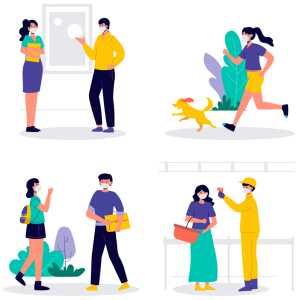 Well, fortunately, there are many things you can do without leaving the house or interacting with strangers to stay fit and healthy. Although they may not look like the exact routine or process you had before, it is still a great way to get your body moving and releasing some much-needed endorphins.
Regular exercise can increase your endorphin levels, which is crucial for reducing your overall stress levels and improving your immune system. And who wouldn't want a strong immune system during a global pandemic that occurs once in a century?
So without further ado, let's see what are the top 6 ways you can stay in shape at home during COVID-19. And after that, we'll go over some other things you can do to improve your overall health while staying home.
6 exercises you can do during COVID
1. Spinning
Spinning involves riding an exercise bike for a training program with several different intensity levels. However, it is not the same as regular cycling. It's an experience with higher heart rate, better support, and loud rhythmic music.
Most spinning classes used to be held in a gym, but there are more and more options to do it from home while streaming a workout. It's a great way to lose yourself in a workout, getting away from everyday life and the many stressors that COVID-19 has presented to us.
Also, spinning is one of the best workouts for the whole body. Many people think that it is just about the legs, but it is also very good for their core and cardiovascular condition, as it improves blood flow and endurance.
Let's see what equipment you will need to start doing spinning classes at home. These are the top 3 spinning bikes that can make your exercise that much more enjoyable.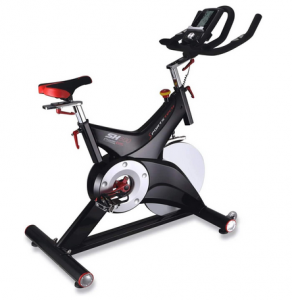 The Sportstech SX500 exercise bike is an indoor workout that offers a full set of amazing features for beginners and advanced users.
The best thing is the smooth and consistent movement that is achieved thanks to the 25 kg flywheel with a resistance without steps. That means you can change your pace with a gentle rise or fall rather than a sudden jolt.
And yes, the price range is the highest for this model, but it is definitely good value for money. High-quality German engineering and design including satisfying curves make it a unique piece in your home.
Between the two handlebars, there is an LCD screen that provides all the training data you will need. Also, you can integrate the iBike app to save your data and track your physical progress over time.
Pros:
Comfortable design
Advanced features
Soft feel
Cons:
Expensive
The Sportstech SX600 is a highly innovative indoor bike designed to last a lifetime, even with high intensity use.
The feel is incredibly smooth and quiet thanks to electromagnetic resistance. The steering wheel is located at the rear and weighs an incredible 26 kg. It is connected via a low maintenance belt drive system that can be adjusted in 32 different stages of resistance.
You can adjust the handlebar and seat to find the correct position for your body, and the pedals have a cage design for secure foot placement. An Android console protrudes from the handlebar that lets you know all the important fitness metrics.
In addition, there are many preset programs and you can even connect the console to your smartphone.
Pros:
Solid steel frame

Smooth and quiet

32 resistance levels
Cons:
The Nero Sports Bluetooth is an indoor bike with a bold black and yellow design that stands out from the crowd. It is one of the cheapest spinning bikes on the market.
It is a small and compact machine, weighing 27 kg thanks to the tubular steel frame. This means you can easily move it around and it even has wheels for easy portability.
Almost half the weight of the bike comes from the flywheel, which is 12 kg.
You can also use the Bluetooth function to connect to the Zwift app, from where you can compete online against your friends and keep track of all your important fitness metrics. There are also a few different virtual worlds that you can ride to change things up and avoid the boredom of riding a bike in one place.
Plus, there's a three-piece crank that provides more resistance to push against so you get that extra hard workout. This type of crank is also much more durable than the normal one-piece cranks on most exercise bikes.
Pros:
Extremely good value

Bluetooth connectivity

Three-piece crank
Cons:
2. Boxing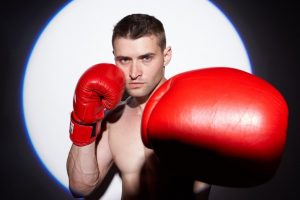 Many people think of boxing only as a sport, but it can be much more than that. When practiced for sport, boxing requires a high level of athletic prowess, endurance, power, and speed. But boxing as a physical activity can allow you to achieve all of those skills without even taking a hit. And you can also do all that in your own home; you will only need a suitable punching bag. But we'll go over punching bags later, now let's see what the benefits of boxing are for your body.
Boxing is an excellent cardiovascular activity for those who are not so interested in running or cycling. All those punches, kicks and jumps keep your heart rate up at all times, ensuring your heart and lungs are in tip-top shape.
It is also one of the best ways to change body composition for better health. Increase your muscle mass and decrease your fat mass that is. Boxing seamlessly combines strength training with high-intensity cardio bouts that burn calories like crazy. And considering that obesity and increased fat levels are a risk factor for complications from COVID-19, taking on boxing seems like a no-brainer.
Now, let's see what are the best punching bags that you can use to try boxing at home.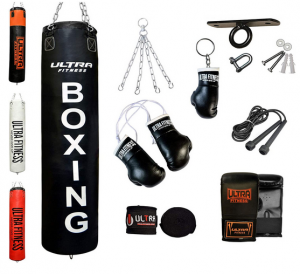 This ULTRA FITNESS boxing set includes a variety of items to start your boxing journey:
1 punching bag

1 pair of gloves

1 chain to hang your bag

1 heavy duty wall bracket (with screws)

1 jump rope

1 pair of hand bandages

1 pair of gloves to hang in the car

1 keychain
The punching bag is machine filled with a heavy shredded textile padding. You can adjust the weight of the bag up to 60 kg by adding more material, such as sand or heavy cloth. This can be done by opening the top.
As for the outer material, it is made of rexion leather and is very resistant. It also comes with a pivot to allow you 360 degree angled movements.
The jump rope that comes with it is 2.8m long and very easy to adjust to your height.
Pros:
Good value

Comes with many items

Adjustable weight
Cons:
The gloves are not of the best quality.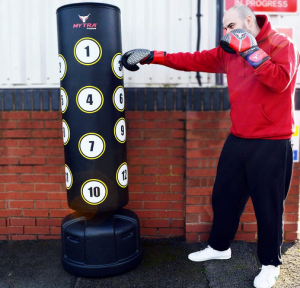 The Mytra Fusion Pedestal punching bag is a freestanding punching bag that has special perforation zones designated by numbers 1 through 12.
It stands 6 feet tall and can be used for many different disciplines. No matter how many bumps you hit, the high-quality PU synthetic leather can take what you get. It is also stitched with a RAW triple needle pick to further strengthen the composition and ensure greater durability.
The fun part is the twelve hit areas. They allow you to develop pace and concentration for multiple training routines.
To keep the bag in place, there is a hard-coat PE base that adds stability and improves drilling techniques.
There are also many positive reviews online for this bag, which only add to its appeal.
Pros:
Strong

Easy assembly

Compact base
Cons:
Base can be difficult to fill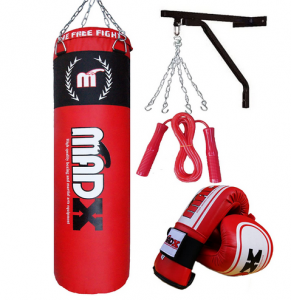 The MADX punching bag is designed for heavy use and has a weight of 20 kg. It has a zippered top that can be unbuttoned to add weight by filling it with heavy material.
The set also includes a heavy duty swivel chain that must be attached to a ceiling hook. The fact that you hang it from the ceiling means you can also use it as a kick bag.
Other things that come with the bag are training gloves and a jump rope with plastic handles. So, you have all the equipment you need to start boxing and improve your fitness levels.
Pros:
Easy to hang

Support up to 60 kg

Heavy duty steel chain
Cons:
3. Pull-Ups
If you want to target your back muscles, there are no better exercises than pull-ups. To do a pull-up, your entire upper body must be activated, including the traps, lats, delts, pecs, biceps, forearms, and triceps. That means pull-ups are a very effective compound exercise, targeting many muscle groups at once.
Additionally, there are numerous variations of pull-ups that you can do based on your needs, and if you have a proper pull-up station you can even do some dips and sit-ups. Let's see what are the top 3 pull-up dip stations that can help you train almost every muscle in your body.
This DSHUJC power tower is made with heavy steel frame and can bear a maximum load of 150kg.
It has two high-density foam handles for dipping in the middle and two handles for pull-ups on the top. The good thing about the top bar is that it can be adjusted in 10 different positions, from 165 cm to 210 cm.
The dimensions of the power tower are 80 x 70 x 210 cm and it weighs 20 kg in total.
You may be wondering how you can avoid accidents with such a large station, but luckily, there are 4 suction cups at the bottom that stick to the ground. They provide added safety and stability, so you can focus on your workouts and not worry about falling.
Pros:
Robust design

Adjustable chin-up bar

Suction cups for added safety
Cons:

Our second pick for the best chin-up dip station is the HNBSTST Power Tower, which is also made from a sturdy steel frame, but this time with a U-shaped base. The U-shaped base helps add more stability for when you do your pull-ups.
The handlebars and grips are made with a non-slip material to ensure that you always have an easy and smooth movement when exercising. For leg raises, there is a professionally designed backrest with a slight incline to provide better back support and ensure proper shape.
As for the weight limit, it is less than the previous power tower, at only 100kg. The good thing, however, is that the handlebar can be adjusted further, from 150cm to 230cm, making it suitable for any age group or body type.
Pros:
Adjustable handlebar

Inclined back cushion

Suction cups at the bottom
Cons:
May be unbalanced
4. Weight training
Weight lifting and training are no longer just for professional bodybuilders and athletes. Now, it is recommended that all adults do weight training at least twice a week to improve their overall health.
And that's not because everyone should have great biceps or abs. It's because strengthening the muscles in your body can improve your daily life and allow you to do the things you love more easily.
And while most of us stay in a few sedentary positions all day, strength training can help you improve your posture and stabilize the core muscles that support proper posture.
To reap the full benefits of strength training at home, you don't need to buy multiple machines and all types of dumbbells. You can just do a multi gym and do a full body workout. Let's see what the main options are:
This multi gym from Marcy covers all the major groups you need to exercise. It can be used by both beginner weightlifters and experienced trainers. It's made from alloy steel frames and weighs a whopping 170kg, and that includes the 13 weight plates that add up to 90kg in total.
Aircraft cables are of very high quality and can withstand up to 900 kg of tensile strength. This, along with the reinforced 10cm pulleys and sealed bearings means you'll get a smooth experience without any jolting movement.
https://www.youtube.com/watch?v=PSyABj1bHEg
In addition, the seat and back are padded with a thick material and a vinyl coating for maximum comfort when you exercise.
Keep in mind that when you get this multi gym it will take some assembly, and this is usually a two person job and requires at least a few hours. But it will all be worth it in the end, as you get a sturdy gym that will last for many years.
As for the exercises you can do, the options are almost endless, from seated rows, chin-ups, bicep curls, chest press and much more.
Pros:
Covers all major muscles

Robust design

Durable materials

Many extra features
Cons: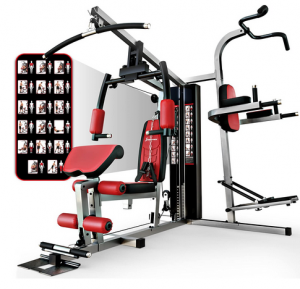 Can you imagine doing 45 exercises on a single machine? Pretty impressive, right?
With the Sportstech HGX200, you can say goodbye to boring workouts at home. There are 45 exercise possibilities and you can change things every day.
It is made of high-quality steel and was designed locally in Berlin. This makes for a very sturdy construction where nothing moves while you exercise, thanks to the extra wide rubber feet that distribute the weight evenly.
Even the cables are very well made with steel, ensuring safety and longevity.
The impressive materials and design translate further into the cushioning, which is made from high-quality water-repellent EVA material that prevents sweat build-up and eliminates unpleasant odors.
The HGX200 also comes with 12 weights (55kg total) to give you enough variety for all your exercises.
Pros:
Quality German construction

45 exercise options

High quality materials
Cons: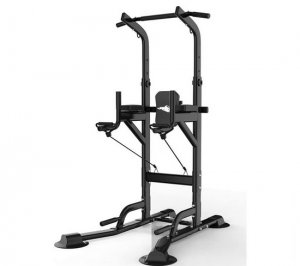 This station is a simple pull-up dip station but with very well designed features. It has a sturdy base with a 4-legged tube and non-slip foot covers that protect the floor from damage.
Like the other chin-up dip stations in this review, this one can also be adjusted to 11 different levels, ranging from 170cm to 240cm. This ensures that anyone can use the machine, regardless of height or age. The backrest can also be adjusted to meet your needs and ensure proper spine alignment.
Pros:
Adjustable handlebar

Sturdy base
Cons:
5. Running
Going for a fast run outside is a safe and effective way to maintain your fitness level. In addition, it can also give you that daily dose of vitamin D that helps boost your immune system and improves the strength of your bones. And the best source of vitamin D is the sun, so get out there and run!
To fully experience the benefits of running and avoid unexpected injuries, it is essential that you have the right shoes. These are the 3 best you can buy right now: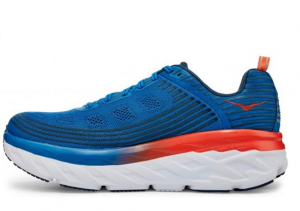 Hoka is known for producing high quality running shoes, and the Bondi 6 are a perfect example of this. It features a full 36mm EVA midsole that provides maximum cushioning.
It has a 4mm heel-to-toe drop and was designed primarily for normal road running. The upper is made from a combination of engineered mesh and lycra, ensuring a soft feel while you wear it.
As for the sole, it has additional rubber cushioning on the side to reduce the impact of high-intensity running sessions. In addition, it also has the Meta-Rocker, an internal heel that sticks to your foot.
Overall, the Bondi 6 feels like you're racing through the clouds, and if you're looking for soft but firm cushioning, there's really no competition for the Hoka Bondi 6.
Pros:
Lots of padding

Comfortable upper
Cons:
Another entry from a highly reputable running shoe company, the Asics Gel Nimbus is packed with all manner of technologies and materials that enhance your running performance.
La unidad de la suela es lo que destaca, proporcionando una amortiguación de gel que absorbe todo el impacto que recibe tu pie al correr. Esto asegura una carrera agradable, sin importar la distancia.
FlyteFoam, su material característico, se utiliza en toda la entresuela y ofrece una increíble capacidad de respuesta y flexibilidad, todo gracias a las nanofibras orgánicas.
Y cuando se trata de la parte superior, está hecha de una malla muy liviana que ofrece transpirabilidad y evita que los zapatos suden.
La caída del talón a la punta del Gel Nimbus es de 10 mm y fue diseñada principalmente para carreras en carretera.
Lo que diferencia a este modelo de otros modelos de Asics es la amortiguación del talón. Proporciona un buen agarre y una sensación de suavidad, como nunca antes lo había sentido.
Pros:
Cómodo
Sensación firme en tu pie
Muy receptivo
Contras: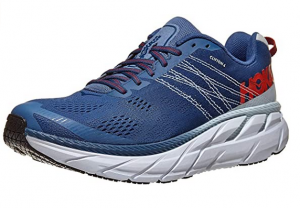 Tenemos otro modelo más de Hoka, esta vez el Clifton 6. Y al igual que el Bondi 6, ofrece una amortiguación increíble pero no pesa tanto. De alguna manera lograron mantener el peso en 257 sin sacrificar la amortiguación y la capacidad de respuesta. ¡Muy impresionante!
De hecho, la línea Clifton de Hoka ha ganado muchos premios por su amortiguación, y este modelo tiene probablemente la mejor amortiguación hasta ahora. Cuando combinas eso con su famosa tecnología Meta-Rocker que te "mueve" hacia adelante mientras corres, las Clifton 6 demuestran ser una de las mejores zapatillas para correr para carreras de larga distancia.
Para una comodidad aún mayor, la parte superior está hecha de malla de ingeniería y tiene una sensación elástica de alta calidad que proporciona a tu pie una sensación libre pero segura mientras corres.
Por último, cuenta con una caída del talón a la punta de 5 mm y está diseñado para correr solo en carretera.
Pros:
Durable
Empeine de alta calidad
Amortiguación suave
Contras:
6. Placas vibratorias
Las placas vibratorias utilizan vibraciones para estimular los músculos de una manera mucho más eficaz que las contracciones musculares deliberadas del entrenamiento con pesas.
Todas estas vibraciones aseguran que cada contracción muscular sea importante y te ayudan a tonificar tu cuerpo de manera mucho más efectiva.
Para aprovechar al máximo las placas vibratorias, asegúrese de sentarse con las rodillas ligeramente dobladas y, a partir de ahí, puede hacer algunos ejercicios diferentes, como sentadillas, estocadas y flexiones. Todas estas diferentes combinaciones y ángulos aseguran que cada músculo esté correctamente dirigido, aumentando su densidad muscular y estimulando el crecimiento muscular.
Las 3 mejores placas de vibración disponibles en el mercado son: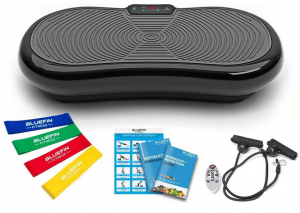 Esta placa vibratoria de Bluefin es una de las placas más vendidas en el mercado y tiene más de 3.000 calificaciones de 5 estrellas en Amazon.
Con él, puede obtener poderosas vibraciones verticales que ayudan a estimular su circulación y adelgazar su cintura. Viene con un póster de ejercicios y una guía de ejercicios que puede seguir para maximizar sus resultados.
También hay cables de resistencia en el paquete que puede usar para ejercitar todos los músculos de su cuerpo. Son totalmente ajustables y se fijan a la placa con facilidad.
Lo que es muy emocionante de esta placa es que tiene un altavoz Bluetooth integrado que puede usar para reproducir su música favorita mientras hace ejercicio. También hay 180 niveles diferentes de intensidad y 5 entrenamientos preprogramados.
Para controlar la intensidad de la vibración, así como la hora, tipo o programa, obtienes un control remoto para hacerlo sin interrumpir tu entrenamiento. Todas estas métricas se pueden verificar fácilmente a través de la pantalla LCD que tiene una vista clara desde donde se encuentra.
Pros:
bocina Bluetooth
Control remoto
Entrenamientos preprogramados
Contras:
Informes de mal servicio al cliente
2.YGB Home Slim Fit Vibration Trainer, 99 niveles de velocidad y bandas de resistencia, pierde grasa para usar en el gimnasio de la oficina en casa
Otra muy buena opción de placa vibratoria, este entrenador tiene 99 niveles de velocidad que ofrecen entrenamientos variados para tonificar todo tu cuerpo. También hay 6 programas preestablecidos que puede usar si no desea lidiar con la configuración usted mismo.
La placa mide 56 cm de ancho y 35 cm de largo, y tiene almohadillas antideslizantes en la parte inferior para garantizar la seguridad durante el entrenamiento.
Viene con dos cables de alimentación que se conectan a la parte delantera de la placa para ejercicios de brazos y un control remoto inalámbrico para cambiar la configuración de vibración.
Pros:
6 programas preestablecidos
Control remoto
Contras:
Otras cosas para recordar
Además de mantenerse en forma y hacer ejercicio, hay algunas cosas más que puede hacer para mejorar sus niveles generales de salud y estado de ánimo.
Mantener un equilibrio entre el trabajo y la casa
Trabajar desde casa durante el COVID-19 puede resultar muy agotador, incluso más que ir a la oficina. Sin embargo, con un buen y estructurado equilibrio entre el trabajo y la vida personal, esto se puede superar fácilmente. Pero mantener el equilibrio es mucho más difícil de lo que parece.
Las cosas más importantes que puede hacer son:
Desconectarse: una vez que haya terminado de trabajar, desactive todas las notificaciones relacionadas con el trabajo
Cree una rutina: no importa de qué tipo, solo debe funcionar para usted
Tome descansos para el almuerzo: le ayuda a comer mejores comidas en lugar de comer bocadillos todo el día
Establezca un horario de trabajo adecuado: esto garantizará que no se sienta como si estuviera trabajando todo el día
Construya transiciones: similar a su viaje diario, tener algo que lo prepare para el trabajo y lo descomprima después del trabajo puede ayudarlo significativamente
Descansa y duerme
Muchas personas suelen descuidar el sueño, especialmente este año cuando todo parece más estresante. Pero dormir bien por la noche es fundamental para mantener un estilo de vida saludable. Le ayuda a sobrellevar mejor el estrés, le proporciona más energía, mejora sus capacidades cognitivas y le ayuda a mantenerse de mejor humor.
Nutrición
Es sorprendentemente fácil comer bocadillos todo el día cuando se trabaja desde casa. Pero los bocadillos rara vez nos proporcionan todos los nutrientes que necesitamos. Por eso es importante pensar en el futuro y abastecerse de bocadillos nutritivos y preparar algunas comidas con anticipación.
That way, you can always have something ready to grab if you're short on time. And if you have more time, be sure to carefully select what you put on your body. If you take proper care of your body, it will take care of you.
conclusion
While exercise and a healthy lifestyle may be the last thing on our minds right now, it is more important than ever to stay healthy and positive during these difficult times. With the right equipment and the right mindset, nothing prevents you from leading to a healthy and active lifestyle.